Share this URL: http://beanawardwinningbrandnetworkinghightea.peatix.com
Event is FINISHED
Be An Award Wining Brand Networking High Tea
Discover The Secrets Of Becoming An Award Winning Brand
Thank you for taking the time to read this. As a token of my appreciation we would like to give you a video I created. I share about the foundation of success and how it change my life. Here is the YouTube link https://youtu.be/LKt0HZkT6fA
Imagine how your life would be like if you were an Award Winning Brand. How will it change your life? Would it mean life for you and your family? Would you be invited all over the world to share your knowledge and experience. Would you be living the life of your dreams and having fulfillment.
"Everyone is a brand, whether you like it or not. If you do not brand yourself, others will do it for you" From Best selling author of Personal Branding 247 - Andrew Chow.
In his book he shares about THE ADVANTAGES OF GOOD PERSONAL BRANDING
Here are 3 advantages :
1. Others do the selling on your behalf through continual referrals.
2. Your Credibility is never questioned. When others have caught you on the television, heard you on the radio, read your book, seen you speak publicly on a big stage. Your credibility is rock solid.
3. Others are drawn to you and some even emulate you. There is magnetism about a great personal brand. People become interested to know you personally, pick your brain, invite you to parties, propose a business alliance with you, etc. You will enjoy more opportunities without much effort on your part.
and many more!
Greetings from me Murshidah Said. I want to share with you some amazing news. Recently I just won an Award for Best Personal Brand as a Life Transformer 2017 by Marketing Insitute of Singapore curated by Personal Branding 247 Best Selling Author Andrew Chow.
I would like to specially invite you to our Be An Award Winning Brand Networking High Tea where Andrew Chow will be our special guest speaker. He will share with you how you can become a award winning brand by following simple steps.
I will share with you what I did to win this Award as well. If you are interested to attend you can call or WhatsApp me at 8157 8488 to rsvp. Thank you.
Date : 24th February
Time : 3 to 6pm
Venue : 45 Middle Road, Level 6, postcode 188954.
Investment : $50 per person.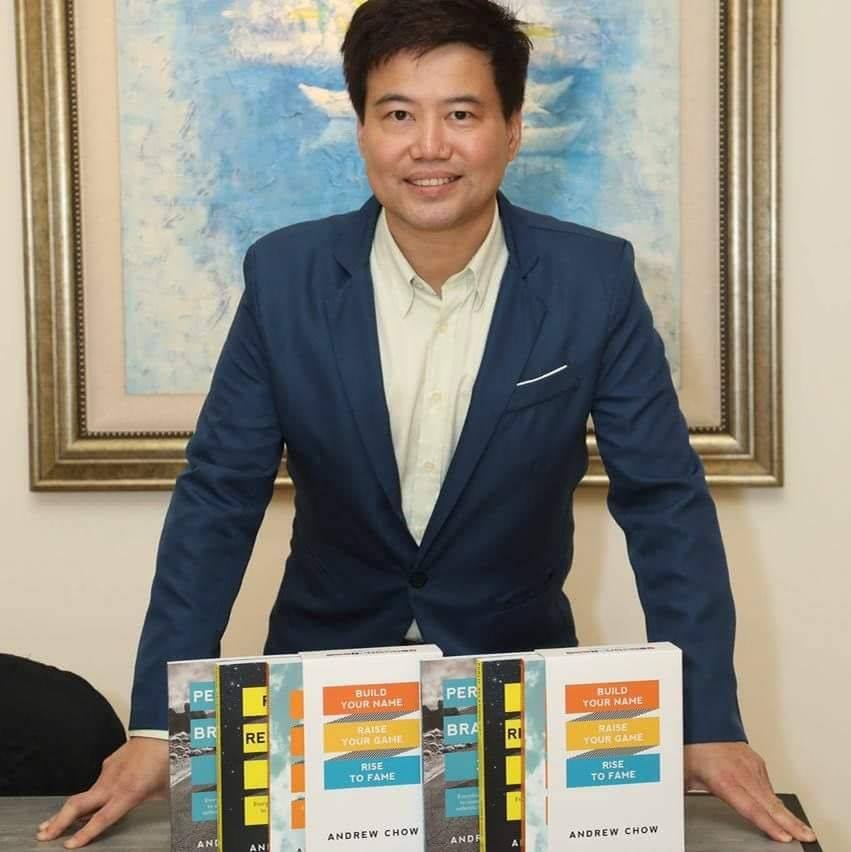 About Our Special guest Andrew Chow
Andrew Chow is known to be pragmatic, visionary, competitive, intuitive and giving While he is a successful social media and public relations strategist, entrepreneur and speaker based in Singapore, he is also the best-selling author of a highly popular series of books: Social Media 247, Public Relations 247 and Personal Branding 247Andrew has spoken in over 15 countries within 5 years and addressed more than 20,000 people on Digital Marketing, Personal Branding, Enneagram, Public Relations and Branding Andrew's career of 30 years; has seen him work with an array of clients including AXA Insurance, Abbot Medical Optics, Singtel and Sony Pictures, M1, Starhub, and SennheiserAndrew had more than 300 interviews and features about him or his business since 2005 from more than 40 local and regional media. He is listed as the Top 10 Most Influential Speaker in Singapore in 2013 by the Singapore Business Review. He won the Spirit of Enterprise in 2008 and the Successful Entrepreneur in 2010. Before he served as the President of the Asia Professional Speakers – Singapore (APSS), he also won the coveted Spirit of Service Award from the Industry.He loves traveling and held his solo Photo Art Exhibition for 3 days in Singapore to raise funds for a charity – Teen Challenge. Andrew is known by the moniker @ideasandrew in all his social media platforms
We look forward to hear from you. Have a blessed and successful day.
Love & Respect
Murshidah & Zeal
M&Z Empowerment Institute
read more
Sat

Feb 24, 2018
3:00 PM
-
6:00 PM
SGT
Add to Calendar
Venue

Trading Plc
Tickets

General admission

SOLD OUT

$50.00
Venue Address

Singapore 188954

Singapore
Want to find more groups and events like this?